So, this past week I've been extremely busy, one of the most important things that I accomplished was last weekend which saw the second Global Game Jam take place.
This year I travelled to the Qantm College in London, as it was the closest event to us.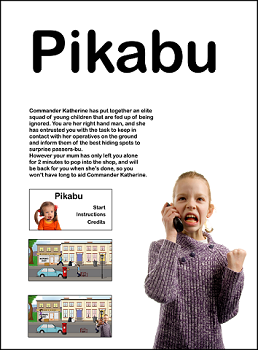 The theme was deception, and we had the constraints to include in our game a sink, a wink or a rink.
We lost a lot of time at the start of the jam coming up with the concept, usually we're done in about thirty minutes to an hour, however it took us 4 hours until we had chosen our idea and had begun discussing mechanics, assets and programming needed to finish our game.
In some ways we had a better experience this year, but similarly there were some aspects that we preferred taking part at Newport. The event at Qantm was good and the organisers were fantastic, we did have a great time and a great game came out of it too.
As we learned from our last game jam, simple is best, so we chose our simplest most fun proposal of; small children hiding behind objects and scaring people.
We called the game Pikabu, and managed to achieve everything we hoped to achieve.
You can download the game here, however I will be making some polishing touches to this version and then subsequently release it through my website.
As well as my activities at the weekend I also had the opportunity to attend two premiere screenings, one for the Dante's Inferno 'animated epic' which I quite enjoyed, if not for the sometimes shocking animation. Then I also attended a screening of the Halo Legends collected animations, which was slightly disappointing, the animatrix achieving far better.
Either way, both screenings were a great experience, and it was great fun going out to London two evenings in a row.
Now I'm off to fix some new wheels on my arcade machine, and play some Mass Effect 2!