The awesome is by the bucket load!
Halloween is such an amazing time of the year, not surprising when my birthday falls on it, but also for the excitement of choosing what to carve on your pumpkin, and waiting patiently on your sofa for some small child dressed up as a knight to knock on your front door in search of candy.
Another fun thing with halloween is the contests that take place in the gaming spaces of the internet, sadly no doublefine contest this year, not that I entered last year. Telltale had another competition; the winners having some awesome entries. Kotaku had an epic contest to win a dead space helmet, sadly Catherine didn't win
I entered as well, but I think I did it too late.
Doesn't matter though, because I carved two particularly awesome pumpkins this year!
And the very first Adam Jensen pumpkin straight from Deus Ex 3!!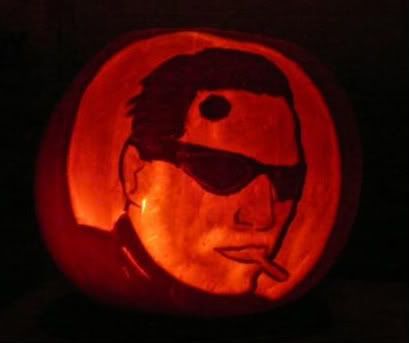 Fallout's vault boy was my own halloween pumpkin for this year, Deus Ex's Adam Jensen was for a competition on the Eidos community forums; fingers crossed I win something!
Tune in the same time next year for more pumpkin carving action!
1 comment
hello dear!in our country thre are many happy days (i mean the days like hollowen in your country) but we have not hollowen. i guess hollowin mighte be intresting!
good louck and have a good hollowin!