Ok, this may not be a surprise to some people that I have mentioned this to, but recently I... got a hold of most of Stephen Chow's films. (Be them directed, written, or just even starring him)
Before I did this I had only seen Kung Fu Hustle in the first year of uni; having taken it out of the library through pure curiosity, and it wasn't until perhaps a month ago, when I was looking on Love film's world cinema section and saw The King of Comedy (not the Scorsese film, mind) I was immediately interested by its synopsis and sort to find it, after tracking it down I was not disappointed, and the film was one of the best (as in funniest) Cantonese films I had ever seen..
It's definitely something about the way Cantonese is spoken, a person can be so animated, similar to the amusing Escape from Hong Kong Island, the acting scenes are also helped by Chow's face, which he enunciates with a lot. His films follow the practice of 'Mo lei tau', generally used to mean, makes no sense. Something that I had already seen an early example of in Jackie Chan's Fantasy Mission Force, and what's best is that Mo lei tau can be either verbal or slapstick, physical humour being a good friend of mine I find myself enjoying his films to no-end, and on occasion having to bring Catherine into my room so I can show her something utterly absurd and humorous.
So far I can say that I have seen a total of seven of his films so far, Kung Fu Hustle and Shaolin Soccer being so-so. But found great enjoyment in God of Cookery, King of Comedy, The Lucky Guy, Tricky Brains 2000 and Forbidden City Cop.
One complaint I seem to hear a lot of his films are that Chow only ever plays the same character, which is slightly true, but not wholly. There are certain themes that seem to run quite a lot in his films, primarily he plays an under-achiever that beats the odds (king of comedy, Shaolin soccer, Forbidden City Cop) or an arrogant overachiever who has a lesson in humility before fighting back (god of cookery, Kung fu hustle) playing a sort of underdog of characters, but I feel that although he is playing similar characters, each film has a sort of breath of fresh air, which I love so very much.
So I recommend his films to all; even though a few people I know hated Shaolin Soccer (which i sort of do as well because I had to watch a dub!!!)
I am a bit disheartened watching his newer films now that I have gone and seen his older works; and find his emphasis on cgi rather than verbal humour to appeal to a wider audience is not as effective to myself, but nonetheless I want to see CJ7 when it released in the UK (unless they chose to dub it) because it looks just as sweet and funny as his films in the past (despite having the largest budget in Chinese history.
Another reason I love his films so are their surreal humour, not too mention Lee Kin-Yan's many appearances as a cross-dressing man with his finger up his nose.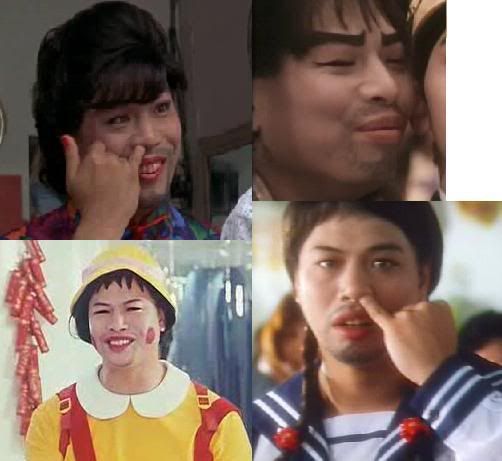 1 comment
I'll have to watch all of them at some point :)
WEIRDO: Yes everyone will! mwhahahaha