There is a god, and his name is Tim Schafer!!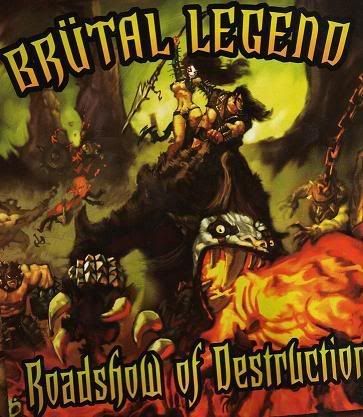 If you live in a hole (by my standards anyways) then you may not have heard of Double fine's newest original amazing mishmash of a game; Brutal Legend!
Yes, this news does come rather late on my blog of all that is holy, but I've been busy and stuff... that's enough of an excuse.
Who am I kidding; there is no excuse for not getting out the excitement and perhaps even merriment that Tim Schafer is working on a new game! (Wait scratch that) Has been working on a new game for months maybe longer in secret hiding, where no one can see what's happening, but somehow everyone knew what was going on, and only because Jack Black wore a Kochamara t-shirt to some American Idol thing, not to mention being spotted in Whispering Rock T-shirts also.
So yeah, where was I? Oh yes, how excited am I!!! Come 2008 (the year of everything mind you!) There will be more delectable Tim Schafer goodness on the shelves, and it features Jack Black; so everyone will buy it and rejoice at the amazing sales!!
What's the game actually about? I hear you ask... well you assume the role of Eddie Riggs; roadie and some crazy imaginative stuff happens and you are transported to sort of the world of rock and metal. This is where the amazingness comes into play.
Now I hear you saying, Charlotte you're not a fan of metal... well no I'm not, unless for some strange crazy reason David Bowie came under the classification, but it's that magical clichéd world full of skeletons and strange album covers that the game will be sponging from.
How will they be allowed to sponge from them? I hear you ask; well they've got the backing of like a million pretty darn famous bands! I know, how awesome is that!
Ok, ok so it's going to have an awesome story, and some amazing dialogue thrown in there, that's a given after all. But what else does it have? Well it may not have the crazy imaginative designs of Scott C (see Psychonauts characters and general all art) but it's still got a lovely cartoonyish vibe going, DF will hopefully always stick to this characteristic, as it's a lovely –almost- pass down from adventure games (who wants realism after all).
So this game is pretty much gonna rock 'nuff said.
Thank you for asking so many questions, I've never heard you talk so much!
1 comment
scott c is still the art director for brutal legend.