Now I don't mean to gloat, but how awesome is our pumpkin this year?
Of course, my pumpkin, once again game-related is a reference to this years game of the year (in my opinion I've already forgotten everything that came out because of it's brilliance and writing) Portal. Because you can't not finish the game and not love it.
I dunno about you guys, but I love pumpkins, ever since a few years back when I did my first (the very nice and easy bat-logo) I always look forward to doing them the next year, and on the theme of game-related pumpkins make them even more fun.
So then the second year I progressed onto pac-man, and no not the shape of a simple pac-man, I went all out and did a cute cartoony one.
The third year was fun, as it was our first birthday at uni, which called for a special one, namely Mr Mario
And if you thought that was it, think again!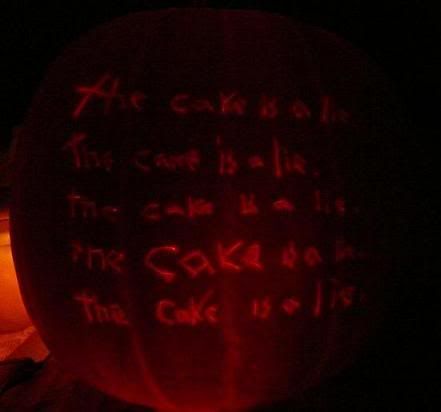 1 comment