Lovers, Liars, Lunatics and why Amber Benson rocks my socks!
I saw Chance years ago, when I happened to find it on the net; it was ok, a cute little film, unfortunately I do not really recall much other than Amber in men's clothes with a moustache and James in a dress (it was a long time ago that I watched it) but the fact is, it was much more than that. It was Amber Benson's foray into the world of writing and directing, and quite a bit step at that, with her first film raking in at around 80 minutes. Obviously having fun doing it as well, 4 years after Chance she released Lovers, Liars and Lunatics is
a dark, screwball comedy about a neurotic suburban family that gets held hostage in their home by two inept burglars. Only as the night progresses do we realize that the Machiavellian machinations of the family are actually drawing the burglars further and further into their nefarious familial schemes, until reality blurs, and we no longer know who we should be rooting for: the family, or the burglars - Amber Benson
So when I heard that she was making a second film, I got excited, and this time she had even decided to edit!
Of course I hadn't gotten around to buying it, because I believe it was released at a time where I had no money; that and I am very very forgetful at times, but when the chance came around I took advantage of it (see: why Amber Benson rules, and I fail) so the night before the Halo 3 launch (which I sort of worked) with pizza in hand and a few dozen hours to spare, the time was right to watch my newly acquired film.
What can I say, the film is everything that I love about independent cinema; it was fun, quirky, nice and easy to follow, with some awesome writing and some great characters!
Not surprisingly Amber's character is undoubtedly the best of the whole film, so very childlike, with the innocence of Tara when she had craziness, also the funniest character of the lot as well, with some rather strange lines and the most awesome balaclava in the world!
It probably doesn't help at all with my bias that after meeting her for the second time she was an absolute star! Laughing and joking around; it's the down-to-earth stars like that that really make me proud of being as much of a geek as I am, and it all just makes LL&L that more enjoyable
I did unfortunately have a few issues with the sound though; at times it was slightly difficult to hear what people were saying, but otherwise the film is marvellous, with some amazing shots; such as the car rolling into the darkness (something moving into darkness until it is engulfed is always amazing) and subtle reflections of characters in windows etc all make the film, granted it's no Wong Kar Wai but that doesn't matter because it's a very character-driven piece, and I can't wait to see if she can produce enough money to make another film in the near future!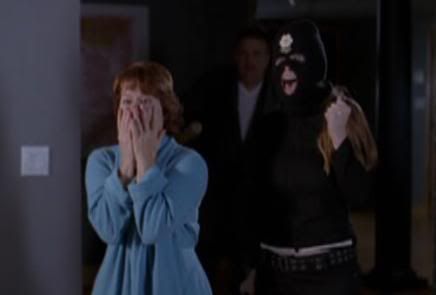 LL&L has a certain quality to it, described on the back of the DVD as screwball comedy (which doesn't have enough made of it anymore) it's a sweet piece not examining anything in particular cept the cruelties of family with a few strange relationships; while some very comical, partially strange incidents go on
Not only was Lovers, Liars and Lunatics nice and sweetly short, it also came with bonus features, of the behind the scenes variety which was very interesting; just to see how Amber works, as well as the environment which touched very closely on the 20s when everyone would sort of live under the same roof while filming, and you can see exactly why the film works so well, because everyone has truly worked up a relationship with each other.
For a film so cute, and funny I'll give it a hearty cptalbertwesker rating of 8/10
The film is available to buy from here (or even here if you don't wanna order from the US) it is an awesome film, and if you are a fan of Amber, or just independent cinema and would like to see a film that had almost every aspect controlled by one woman then check it out!
1 comment
I thought the film was great, Amber is such a character ^__^