Why Amber Benson rules, and I fail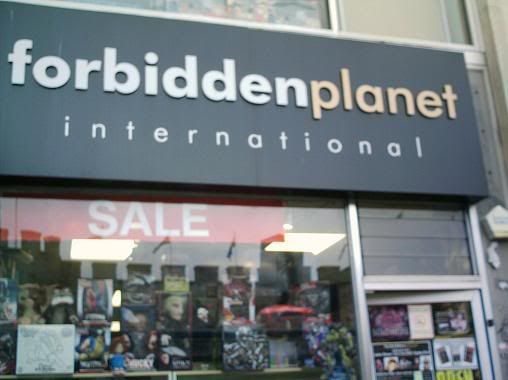 About a week ago when Amber Benson was announced as visiting Cardiff's Forbidden Planet International I've gotta say we were rather surprised, it was basically along the lines of why would she choose to come to Cardiff out of the many other cities in the UK; either way we were pretty damn ex static. Mainly because the last time we saw her (at Collectormania 10) everything was very rushed and we got a dodgey photo out of it (with me not looking at the camera). So I was going to be damned if my experience meeting her for a second time was not going to be perfect!
Some rather colourful events also took place before her 4.30-6pm signing; and is namely the reason that will explain exactly why I fail.
Ok, so we're in Cardiff, pretty much the capital of Wales, well known most recently of course for Doctor Who. So unsurprisingly sitting down waiting for the time to pass I spy none other than Mr Russell T. Davies of respective fame!
Of course I don't have the guts to go up to him and perhaps ask for a photo and compliment him on his work; oh no! I sit there and discreetly inform Catherine who just walked past, and sit for 5 minutes watching him walk by until Catherine convinces me she will initiate contact with him. At this time he is already long gone mixed into the crowds of people down the busy side of Queens Street.
I most positively fail! If you do not understand why... well then you just don't know me. But it wasn't just me yesterday, Catherine fails too! Having forgotten to bring Moo to meet Amber again! Silly Catherine!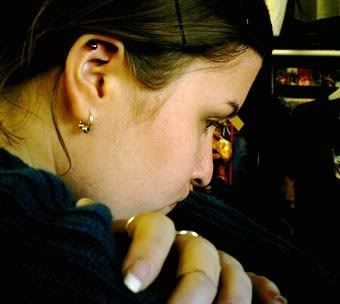 So then after about 10 minutes of muttering to myself how much I fail and completely baffled looks from Catherine we decide to go back to Forbidden Planet and have a slow look around to bide the time til we go upstairs to meet Amber.
Of course I take far too long doing this that by the time we head upstairs we are hit by queues!
Due to Amber not arriving til nigh on 5pm everything was going a little slow, and we had to suffer overhearing the conversations of the people surrounding us, which was fun, though the creepy Scully doll, Alex Ross print and numerous strange MacFarlane figures definately made up for it, so by about quarter to six we got to Amber, fully recognised the guy sitting with her. (from where is a mystery!!)
And explained to Amber how we were the girls with the cow and she recognised the idea of moo, and shamed Catherine for forgetting her, Amber was seriously so much more fun than at C10 and she was not getting rushed in the slightest, plus I got to ask her which aspect of filmmaking she liked the best; though she said Directing.. but mainly because she gets to boss everyone around. She was such a laugh it was awesome, then when it came around to having our photo taken apparently Catherine wasn't smiling enough (according to the familiar guy on the camera) so Amber decided to do something weird to make us all laugh, and from that came our awesome photo