Lots of Heroes and the King of Cyrodiil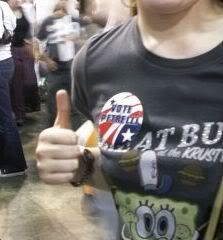 September 1st/2nd welcomed our second visit to the London Film and Comic Convention unfortunately held upstairs in Earls Court 1; a venue with awful lighting hence some of the blurry photos! But none the less an amazing Showmasters event (as always)
About a week before the event I had mixed opinions on the show; Mary McDonnell had cancelled, and I really wanted to meet the President, leaving Hayden who wasn't that big a deal to myself (though she is real cute) Patrick Stewart who I wanted to meet but not immensely, of course Louise Fletcher who I wanted to meet so badly, then Andy Hallet, and Bill Nighy, who both respectively cancelled a day or two before hand. So nothing was looking too special; there were a lot of guests attending from Star Wars; and nobody special enough for that reason.
The same went for the usual mounds of Doctor Who and Harry Potter cast members who just don't really do it for me... my problem is, I like to meet Americans; they're just so different. Though don't get me wrong if for some reason Richard Attenborough or Gary Oldman per say wanted to attend I would be on them in a flash! But Americans are all so friendly!
Then come two or three, perhaps fewer days before the event the biggest announcement possible happens, and they promise not one but three other Heroes guests! Suddenly Hayden's appearance is at a great time and I can't wait to meet them all. Not only that but the three announcements are all guys from the show, big bonus!
The only unfortunate happenstance of the London Film and Comic Con is that all these amazing guests (along with most of the guests I wanted to meet) were only appearing on the Sunday; the day that we would have to leave by 4pm having to catch the Mega Bus back to sunny Wales (this is not sarcasm, it has actually been pretty nice down here at the moment!)
So of course after this great news, getting up at 5am for our bus came with a great buzz of excitement, surprisingly I could sleep properly (unlike at the prospect of last years guests) but I was still pretty excited! Just a damn shame that the bus took 3 or 4 hours, then we had to go all around the underground to get to Earls Court, check into our hotel; and with Catherine dressed as Lara we were both already a little pooped.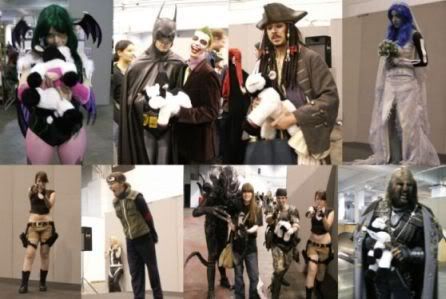 On entry to Earls Court 1 (after a short 5 minutes of lining up) I must say I was completely surprised at the difference in lighting and feel to London Film last year held in Earls Court 2. Though unfortunately I had no time to look around because Catherine had to go change into her outfit *sigh* so I was sat waiting in the toilets for about 10 minutes while people stared at the weirdness that was me -standing around with a cow in my arms- it was at this point I convinced Catherine to take part in the Masquerade, and after much mooching around to ensure this we finally picked up our VT's for Louise Fletcher and tried to locate Danny Dyer.
With no luck we found Andie Tong and waited for him to draw Catherine a picture; unfortunately I never got anything drawn but there's always next year!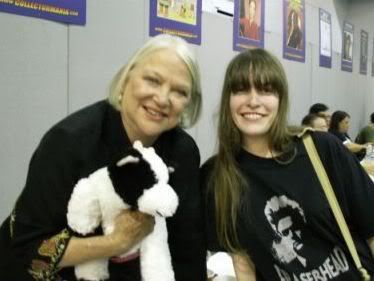 An SFX subscription and £5 worth of milk Pocky later we took off for Louise Fletcher who had gotten an open queue in that time. So fishing out my copy of the amazing Wonderfalls -because I never brought my pretty One Flew Over the Cuckoo's Nest to uni- I got it signed, agreeing on how wonderful a series it was, and how unfortunate it was to be cancelled, I also got to tell her -of course- how amazing she was as Nurse Ratched and that it was a serious honour to meet her; she was an amazingly nice woman, and she even liked moo too!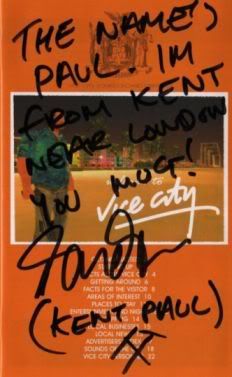 After then finding out that Danny Dyer had gone to lunch we decided to do that ourselves and bought the only real food visible at the overpriced cafe; a very yummy salt beef roll. Halfway through the roll Dyer and Tamer Hassan, as well as their rather loud Londoney entourage appeared for their lunch, and even after we had finished we had to hang around his table for quite a while until he appeared.
Danny was awesome, a real laddy guy, and so cool; and gladly posed with moo "liking a bit of cow" he was seriously awesome though, and perhaps my favourite guest of the whole weekend, well I got him to sign the GTA: Vice City instruction book, having voiced Kent Paul.
The Masquerade was pretty fun as well, with many a colourful costumed people having signed up; including one very enthusiastic Sai who felt the need to quote from 300, an extremely sad-looking Corpse Bride, of course, Catherine! And an awesome Jack Sparrow; winner of best of show! But of course these were not all of the cosplayers, there were a few awesome costumers going around; a real cool Batman and Joker pair, as well as a Morrigan!! Not to mention the USMC's that we've seen from the past who let me hold their gun!! And the most awesome Klingon I've ever seen!
That was pretty much our whole day, leaving us with ample time to look around at all the stalls; allowing Catherine to pick up Heroes on HD-DVD rather cheap (to get signed the following day) and myself to pick up three DVDs for £10 off the cool stall with all the
Korean DVDs.
All we had left of the day was to check into our hotel; The Comfort Inn (much nicer than Londontown had me believe) and eat out at the fabulously amazing Wagamama, possibly our favourite restaurant ever, and with Timeout London doing a 2 for 1 offer it meant we could have two types of desert for the same amount we usually spend!
Sunday saw us with an 8am start, though after seeing the line already formed we regretted not having come out at 6am. Unsure whether this was for the Heroes guests or Patrick Stewart regardless we managed to get in and see everyone that we wanted in the time required.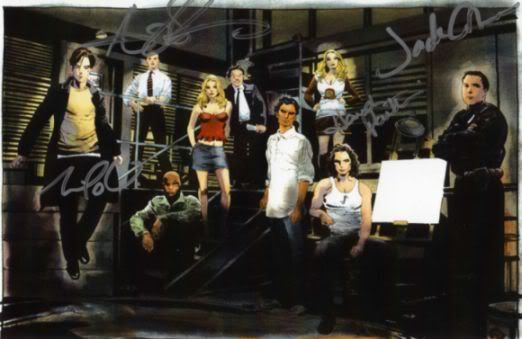 This included meeting the awesome Patrick Stewart who has the most amazing voice in the world. As well as Hayden Panettiere (Claire the cheerleader from Heroes), Jack Coleman (Mr Bennett from Heroes), Adrian Pasdar (Nathan Petrelli from Heroes), and Milo Ventimiglia (Peter Petrelli from Heroes). I personally didn't get anything signed by Patrick, though I did get each Heroes guest to sign my print of Tim Sale's cast picture (unfortunately excluding Mr Bennett). The whole cast unfortunately were very very swamped and busy and didn't exactly chat; but all seemed very nice; and I did manage to tell Jack Coleman that he was great at being creepy. Which he said comes naturally!
As soon as Showmasters give them out I will be able to include the photo shoot pictures we got as well, but for now that was pretty much the whole event. One great convention as always, allowing me to meet two legends; Louise Fletcher and Patrick Stewart, while at the same time multiplying my excitement for Heroes; which like Doctor Who is very much simply good for a fun TV show, rather than something profound and constructive.
I also have to show this pseudo Pellegrino commercial that Milo and the gang created in France; because it's so weird it's priceless!