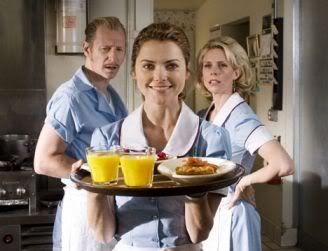 Now, Waitress was a film that I knew about long ago, most likely from my whedon.info newsletters; and at the time its synopsis sounded interesting enough; but placed as a fairly independent film I saw no chance of it gracing our shores.
So I was pleasantly surprised to find I could get free preview tickets to go see it; unfortunately it meant going to Cardiff especially. But I am glad of it now, as it introduced me to the very cool Red Dragon Centre, as well as the lovely walk along Lloyd George street at around 8pm.
Waitress is about Jenna; a recently pregnant, unhappily married waitress living in the Deep South, where -as my sister puts it- everything looks so old fashioned.
The film stars a fairly low-key cast with Keri Russell in the main role, and Jeremy Sisto (six feet under) as her rather jealous, controlling, abusive husband. Adrienne Shelly writer and director of Waitress also starred alongside Russell as Dawn who had such a warm lively character, and of course starring everyone's favourite actor Nathan Fillion, who played a small role as Dr Pomatter, Jenna's gynaecologist who she intiates an affair with.
The cast was great, each female character was well-rounded and written amazingly, and in Waitress unfortunately the same can not be said for the men of the film. Although Earl's jarring horn sounding gave a particularly unnerving edge, the men of the film were otherwise definitely not as well-rounded as the female characters, (a strange scenario in film), but I really have to ask, is this actually a problem? Because a few reviews I read complained profusely on this part!
Yet women have been written the same shitty 2-dimensional roles ever since movies began, so it's always a nice surprise when women get some really strong roles, and both Jenna and Dawn carry them; I am a little unsure of Becky's character, so, thank you Adrienne Shelly!
Waitress is remarkably different to any other romantic comedy out there in two particular ways; the main female protagonist; Jenna doesn't ride away with the man she is unable to live without; she finds her own place in the world. Then there is the look and feel of Waitress; you can tell that more thought and love has gone into the making of it, compared to most stoic romantic comedies, Waitress is genuinely different, and slightly eccentric in the good kind of way.
The terrible shame connected to the film has to be the death of Adrienne Shelly; writer, director and Dawn of Waitress, who was murdered shortly after the film was accepted into Sundance. The worst part of it was that she could have easily become a successful and influential female writer-director... because other than Nora Ephron, there aren't many of them out there!
Whoops! Almost forget Amber Benson!
The film is a strange sweet thing, not too saccharine but at times feeling slightly over-the-top, though its mix of amazing alluring characters and southern setting lends to a wholly endearing film, hopefully one that each and every woman can enjoy.
I give it a shiny cptalbertwesker rating of 7/10 for being such a lovely eccentric film by an independent whiz!