Now, I have to agree with my Swedish friend that Bioshock is perhaps not as we had hoped; after all of the beautiful water and stunning locations, it does basically turn into a common place FPS. But I think (like a few select games) the situation and setting, plus the period in time and dystopian setting has completely won me over. Right now, I'm thinking I really couldn't care if the game were some cutesy platformer, as long as it remained faithful of the dramatically different environment then I would be sold.
Bioshock does seem a bit like Condemned's lovechild to some strange Jules Verne nightmare with a bit of George Orwell added in for good measure, put more simply the game rocks my socks off, just for being so unbelievably beautiful and adventurous for deciding not to base the game in some secret government lab, or a war for that matter.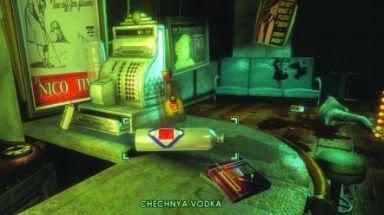 This is one reason why I so recently fell in love with Stranglehold; John Woo's spiritual successor to Hard Boiled (on a games console). Because the game is set in Hong Kong, which is great! How many games do you see set in Hong Kong, I'm wanting to bring Resident Evil 5 up again, because unfortunately as poor an excuse as it sounds; all these games look amazing for me for that simple reason; they are different. They designed a game and said no to the conventional settings. Which I hope will be the way forward, after all, gamers have seen too much of the same thing for far too many years, and sadly these type of drastic changes only come by once in a while. But one thing they are always bound to do, is make a difference!
Need I mention the fact that the moment the Bioshock demo went up on the Xbox Live marketplace suddenly the traffic went up, downloads close to ceased working; hell I was stuck on my 7mb line downloading a 1.3gb file for at least close to 12 hours! This game is big news, and everyone knows it.
From the get-up you can tell (and I hope it's true) that this game has character, and somewhere hidden it better have an amazing story! Because after all, it's linked to the System Shock series; one with -granted I have not had the chance to play because it is so hard to get a hold of- a critically acclaimed story and -not surprisingly- a very different setting for when it was made!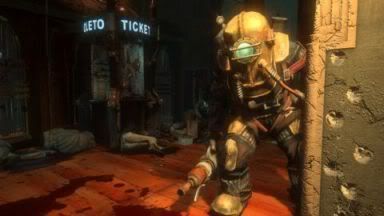 The demo (which granted I haven't had the time to finish, because it completed at stupid o'clock last night) looks and feels amazing; apparently they give you the first 45 minutes! Which is quite a lot compared to some demos, unfortunately of course it means that if there are any discrepancies they are not likely to be fixed, due to it's extremely imminent release *seriously cannot wait right now* but I may be able to put those aside for it's incredible beauty (if I failed to mention it!).
It's a very curious thing (me) that about two weeks ago, I really didn't feel as though I could give a damn about Bioshock, but in the last 24 hours I have gone from not bothered to omfg-gimme-a-copy-now! It's awesome and just so very very pretty. I am only hoping that combat is not the most important factor in the game.
So I suppose I am recommending it, unfortunately -yeah right!- a PC demo has not been released! Haha PC peoples I laugh in your face! ..only of course because my PC would never run it until I do an upgrade.
Sorry, but yeah it does seem pretty awesome, and there are some nice elements to it, not to mention your radio buddy Atlas whose got a lovely Irish accent going on, it seriously for me just makes the game miles better! That and the awesome soundtrack –did I hear some Ink Spots?-, the sound is very very good, and it's a game I'm just betting I'm gonna love!
2 comments
Hehehehe wooo you're buying it :D I'm happy :) now we just have to fight over the 360 and if I'm playing Blue Dragon or if you're playing Bioshock :D
WEIRDO: :O I didn't think of that!!
That and thanks for the comment dude, don't get much of them :P
I didn't care for the blue dragon demo but that must have been something temporary. Will buy it.
I do think this game will be pretty focused on ALOT of action. Appearntly there will be alot of different spells and stuff... and when you finish bioshock you get to see this video with pretty much only fighting in it.. its twisted as hell and the monsters are scary and the spells seems to be many. I still cant wait though.
GOTY? Probably.. haven't been such an amazing gaming year imo.
And by the way Charlotte, download or buy or whatever the game Planescape: Torment, play it, realize it's the greatest rpg ever created with a setting better than bioshock, write about it here, profit?
Honestly it's probably the greatest game ever.
WEIRDO: I will endeavour to get a copy of Planescape Torment and play the hell out of it, and when I realise it's the greatest RPG ever made then I will write about it for sure :D