Daringly Different Dexter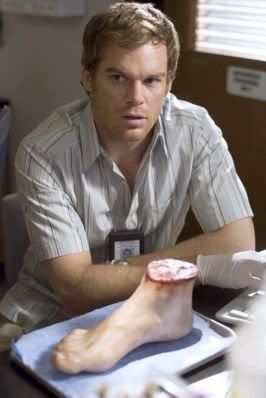 Just as Ransom advised me towards watching Doctor Who -which was a fairly good turn of events- I was also pointed towards Dexter; a forensic cop show with a difference. Shown last year on -American network- Showtime the series is based on the novel Darkly Dreaming Dexter; a fun read written by Jeff Lindsay
What I feel is the best part of Dexter would have to be the character himself, a self-proclaimed sociopath, who, on impulse needs to kill; though rather than go killing a bunch of innocent people, Dexter was brought up by a cop with strong morals; who taught him to only kill those that deserve it, that are not able to be brought to justice.
The first person perspective of the show was what first drew me to Dexter; rather reminiscent to American Psycho, –except with less torture and misogynist tendencies- allowing you to really get inside of the character. That and the inner-most thoughts of a slightly eccentric sociopath can be rather comical, and dark at times.
With a television full of Law and Order's, CSI's, Bones, Cold Case, the list keeps on going, it would seem that television viewers find crime scene forensics extremely gripping and interesting; of course these shows aren't too different from their predecessors like Columbo and Diagnosis Murder. But Dexter is definitely different; it turns the interest from the collecting of forensic evidence and how they catch the murderer, to the life of a random blood splatter analyst and his rather unusual hobby.
I think it's easy to say, that without the very charismatic Michael C. Hall the series would not be what it is, seeing him in Six Feet Under you wouldn't imagine him 'work' as a vigilante serial killer, but he does it so amazingly, not to mention he's got a killer voice, that works so well. Hall's Dexter not only keeps the character and spirit of Dexter 'alive', but his interactions with each character is just amazing, from Doakes, to Rita and especially with 'victims' keeping him fairly uncaring of whatever they are doing, as opposed to turning him into some defender of the downtrodden.
As the series is made for Showtime (a subscription only channel) then it pretty much has free rein (similar to something you'd maybe get from HBO) Dexter can do pretty much anything it wants being a psychologically-complex show, of course it's all a bit toned down from the novel. But easily comparing it to some television shows it gets away with murder (please mind the pun), which is great fun.
Now, I'm sure that this can't be entirely exclusive to myself, but if there's one thing that gets me with Dexter, it's the title sequence; which makes my damn skin crawl. Now, don't ask me, I'm not sure what it is, it could be the extremely close shots, and the repulsive tendencies of a fried egg being cut up, but regardless I can't get past it.

I could easily turn this into a comparison, but I shouldn't need to do that. As the television series has the precise vibe that the book was going for; even though the two are very different. I could very easy have a moan at how they handled the unveiling of the Ice Truck Killer, and how they chose to portray Deborah, (making her a rather stupid character) but I'll keep my mouth shut.
Dexter; similar to a particular CSI show is set in Miami; though rather than show the glamorous side which David Caruso; his suit and sunglasses, with the shiny happy people get. Dexter is all full of sweat and crummy looking; extremely hot looking situations, not to mention the crazy shirts all the time; which are –granted- no where near as outrageous as they sound in the book. But it's some pretty funny looking get-up, especially when everyone's wearing it in a police station.
So for the moment, Dexter is one of the best television shows I have seen in a while; with a devilish black humour and top rate writing I am definitely not going to forget it anytime soon, and recommend anyone check it out.
Not to mention the surprise I got when I just found out that the first two episodes of the second season have been leaked on the net!
1 comment
Ja Dexter is cool, I can't wait for the rest of season 2 :D. Although I'm still finding it hard thinking in my mind of Michael C Hall doing something rather than his character in sixth feet under, which was also a bit weird at times too :P.
WEIRDO: Ja, waiting sucks big time.
But yeah, bout that I wouldn't really know, because I never really watched that much Six Feet Under; though I feel I should, like a million other damn tv shows :/