It's like the end of an era!!
I thought that Episode 4: Abe Lincoln Must Die was amazing.
I thought that Episode 5: Reality 2.0 was an absolute high-point in gaming.
I was not prepared for Episode 6: Bright Side of the Moon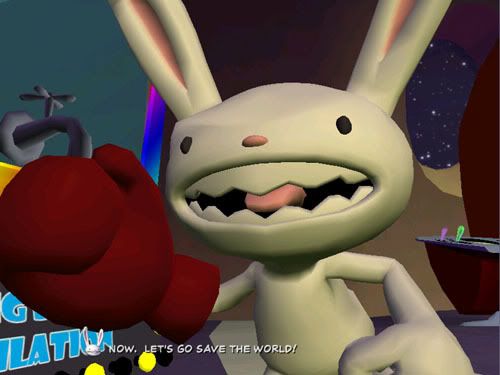 Telltale cleverly set up the whole series and blew it out of the water with this amazing finale to the six-episode stint
But the majesty of Sam & Max is that any adventure with them is about as random as the beginning of a Simpson's episode, so Telltale should never run out of ideas. And I believe they have plans for a second season -they better do!
One thing that really shows from this experience is that episodic content does work really well -as long as you've got a much loved ip- so it's quite a shame that David Cage was made to create a whole game of Fahrenheit as opposed to episodes, which is what he really wanted to achieve.
For the finale of Sam & Max they seriously raised the bar, the episode was hilarious, with many strange goings on - Bosco's mum, the Queen of Canada, a game with the perfect AI, Max's bad habits running amock, the head of Abraham Lincoln on a date with Sybil, and the highly entertaining circus torture attraction!.
Episode 6 is hands down, now my favourite episode, if only for this quote; "It was too short. And not hard enough. I want my money back!" Which had such a cute inclusion into the game, where at the start of the series many similar complaints were made about Sam & Max.
And it ended with one of the best credit sequences so far; better than Ted. E. Bear's mafia song, better than the C.O.P.S song. 'It's a Max, Max, Max, Max World!' together with a cute cutscene going on in the background to conclude the (I wanna say show!) series.
AMAZING! GREAT STUFF, CAN'T WAIT TO SEE MORE FROM YOU TELLTALE (YOU TOO DOUBLEFINE)