See how I changed the order of the words? Clever, eh?
This is England, written and directed by Shane Meadows (semi-prolific film-maker, personally I haven't seen many of his films) as a semi-autobiographical piece on Skinheads in the early 80s.
If there is one thing that Britain is known for, it's our grittiness, in film and television alike. The brutal realist kitchen sink dramas that started as early as the 50s and really came into its own in the 80s/90s are something that I know and love about our country.
I know some people aren't fans of our gritty ways, and they think that Britain's styles should grow out... but where would 28 Days Later be without it's grittiness. A big part of British cinema and television is working class based; because it's just reality, and a large influence on them is everyday life; we may not be as glamorous as the US, but god help us if we were. Britain's cinema is unique and This is England is a great example of this.
This is England is about as gritty as the bin used to be in our kitchen! And set in the midlands, it's about as gritty as you can get without heading further up north. (as far levels in British gritty entertainment goes)
This of course only gives the film more charm, because there's something about British actors that I find simply amazing, the cast of This is England are by large mostly unknown; of course you've got Stephen Graham and Perry Benson; who've both been around acting here and there for a while, but most of the cast are fairly fresh-faced, either appearing in the likes of Emmerdale and Coronation Street or Shane's previous films. Though the strangest cast member has to be Thomas Turgoose -Shaun; and subsequently the main character- who at 15 plays Shaun really well, and you feel for the little guy (granted he's one of those little kids you cant stand; or I can't stand... maybe it's just kids that age in general) and the performance he gives is so very realistic that he propells the film rather well!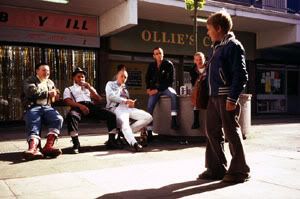 The strangest part I felt was just how uncomfortable a film it was. Perhaps deemed so gritty that it stepped into the territory of brutal; I've felt similarly in the past with a few films or television shows (though unfortunately none off the top of my head) but it's a great experience. This is England makes you 'feel' on a basic level; and its a triumph of British cinema to create such. (we're not talking horror films here) Basic humanist ideals spring to mind. As there aren't nearly enough Humanist films made as there used to.
The film starts out great, and sets the scene of 80s Britain perfectly (if I were there) and the first half of the film is lovely; a group of friends just having fun and it's all very sweet. But the disruption of Combo throws everything, and suddenly the film becomes hard and raw and nothing is like it used to be.
The film has a really nice script and the characters are all 'real characters', Shane Meadows has really triumphed, just unfortunately his film is a little too real for some tastes, certified an 18 it is granted that it will be shown to a limited audience, lets just hope they make the most of it, because it's a real tragic piece of British cinema, with amazing performances from all.
So it's getting a nice big Cptalbertwesker rating of 8/10 (bonus point for being British, and for managing to be shown at our cineworld)
1 comment
I thought it was quite good too, very british :)
WEIRDO: Well yeah :P