Sorry, that was the most inventive title I could create... I much prefer a good title as opposed to 'Sunshine - Review' as I cowardly named all previous reviews of mine, but on this blog everything is different. I far prefer to write something interesting, so no longer am I writing the basics. Though I must add, that if you have not seen this films, there will very probably be some spoilers herein, I'll try and warn you...
Sunshine is the newest outing for Danny Boyle; starring one of his current favourite actors, Cillian Murphy; and with good reason, if there's one versatile actor around films at the moment its the young man from Ireland from playing Dr Crane in Batman Begins to Kitten in Breakfast on Pluto or Jim in 28 Days Later he sure knows how to pick his films, but I think I've got to say his acting didn't exactly shine (haha) in this particular film, no unfortunately none of the actors really did it for me, but I must say that I did coherently know each and every person's name, and face; which is really something to go by for myself when there is a largish cast.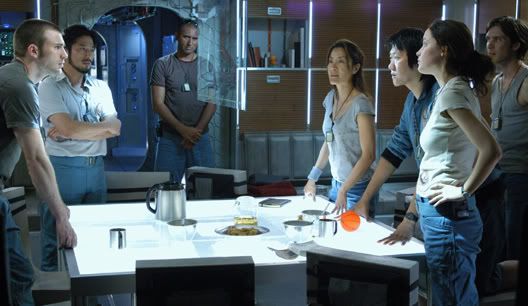 Staring Chris 'Human Torch' Evans and the likes of Hiroyuki Sanada 'The Evil But Handsome Prince Khalid' Cliff Curtis from the Majestic, Casanova's Rose Byrne,the very Chinese actress Michelle Yeoh, and a strangely placed Mark Strong. Suffice to say, it's an extremley varied cast!
The story itself is fairly simple; 57 years in the future the Sun is dying, and the good ship Icarus II (Icarus I having failed their mission 7 years previous) is sent out to attempt to revive it by detonating a bomb into the sun, and the film itself was infact overseen by Dr. Brian Cox of CERN to ensure that everything was up to standard!
One aspect that I must applaud (which is a real once-in-a-blue-moon type event) is the visuals, the cgi work was absolutely stunning, and sadly I've got to say it's quite a surprise for a British made film. But if you are a visual's person, then go see the film simply for that, the sun looks amazing in it, but not half as amazing as the ship!
The real disapointment of the film was I could only say was the third act; what was shaping up to be a really nice science fiction film to then transformed into a horrible slasher flic; which I would have easily been able to deal with if it didn't seem as though it was a quick escape to shorten the film; being particularly short for a typical science fiction film.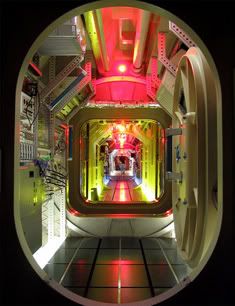 This was a particular gripe for me, as the film could have obviously gone many, many cliched science fictiony ways, and could have come out better than Sunshine's raving-lunatic-wating-to-kill-everyone.. (though I must say I had a particular perchant for 'everyone has a time they must die')
But there were points in the film where I was trying to decypher what would happen, going so far as:
'the computer's gonna turn against them and have them killed' (which after 2001 I love to see in a film; machines against humans a personal favourite)
or
'oh, perhaps they all get a bit paranoid and start killing each other' (which in effect I may have prefered over their choice of third act)
So far, my review sounds pretty negative, but please do consider that I did really, really enjoy the film and I really 'got into' Sunshine, it was a nice breath of fresh air; with most recent science fiction... well being rather non-existant. (other than Children of Men, which doesn't count as I have not yet seen it)
The film definately eminates a longing for the type of science fiction they no longer tend to make; 2001 and Solaris in particular (and all those films made in the 90's aboard spacestations and the like) and it makes a nice change to the science fiction full of universes and such.
So I'll give it a Cptalbertwesker rating of... say 6/10
Like I said, I would have loved the film if it had just gone a different angle.
On another note; due to it's qualities as a sort of block buster film (by Boyle's standards, I am really really surprised that it doesn't come out in the US til Sep 07 ha america! ^_^)