A day in the life of a Black Mage
My day begins, staying round Tim and Debbie's in preparation for the Final Fantasy XII London HMV launch; up until about 2 am playing Mario Kart DS (at which I rule! Oh yes!), 'finishing' my costume, and generally not sleeping (of which now, I sort of regret).
Though regardless of the lateness I woke up sharp at 5.15; jumped in a taxi with the 'gang' and caught the bus; which was on time at 6.30; though due to the retarded nature of some people who feel the need to sit by themselves (because that way they believe they wont have to sit next to anybody, I had to sit in front of everybody.
Getting to London wasn't so bad; the coach arrived early, (though this didn't help in us receiving Moogles) so we were in London before we had anticipated. Unfortunately HMV were not too prepared for the event (if you ask me) nothing was up informing fans on what to do, so we had to ask a couple of cosplayers -hanging around- on what we were supposed to do.
So everyone went and bought the game (except me) to receive their wristbands (which would enable them apparently a free cd, little did we know it also meant, that if you didn't have a wristband, you were unable to actually take part in the launch event; having you stand at the side lines, watching with the other hundreds from a far.)
So then I and Rinoa went to change into our costumes in the nearby M&S toilets; effectively scaring one woman, and grabbing quite a few looks from the patrons of the store.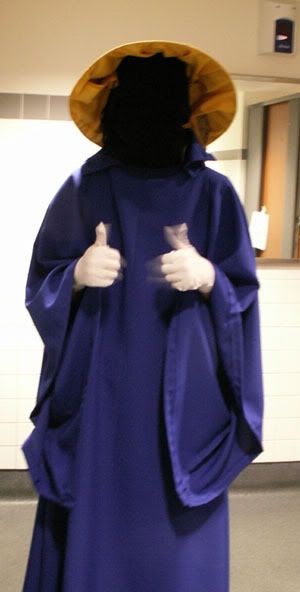 Rinoa helped me across the road (because I could not see too much) and we met Tim & Tom back outside HMV, as well as this colourful character.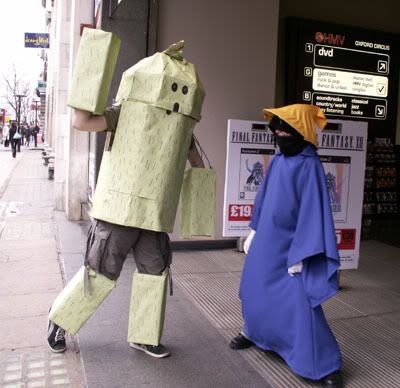 Heading back inside we stood around a bit til we were told that we were SUPPOSED to be lining up in the alley; well, thank you for making that so clear when we got here!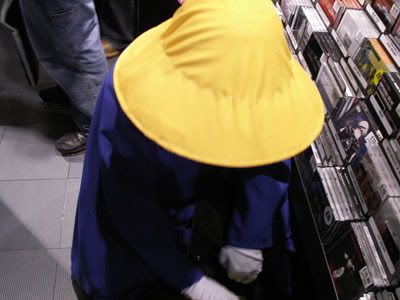 This time Tim had to help lead me down the alley, because I seemed to be able to see even less. So we queued up…
In the queue were tons of cosplayers, here are some of the best! (the ones I got photos of)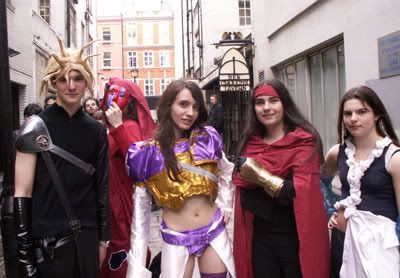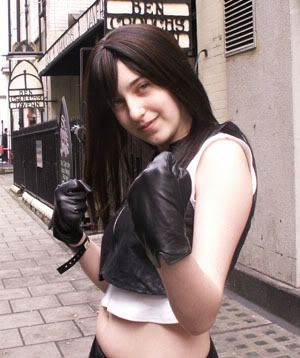 After much standing, waiting, taking photos, (granted I could have taken more) having photos taken of myself and Rinoa, and almost two hours, I was then told I couldn't join wherever they were going, because I had not picked up a copy of the game!!!
So I was forced to walk back into HMV alone, with my hat blowing off in the wind! Alas I was soon after greeted by a group of cosplayers, who thought I looked somewhat lost -as I ambled around the store, trying to spot my posse- I explained my predicament to them (which they also had) and joined them.
After a little while I spotted my friends in the large queue; unfortunately I didn't have the camera so to this point I was unable to take pictures, which kind of sucked, (I believe next time a cool event will take place which involves the splitting up of the camera, I will have to buy some sort of cheap device) though Rinoa was able to take a picture of me.
I then found from the MC that those with wristbands are the only guys that get privileges at the event; so I couldn't even get to meet the Executive Producer Akitoshi Kawazu and Director Hiroshi Minagawa of FFXII!!!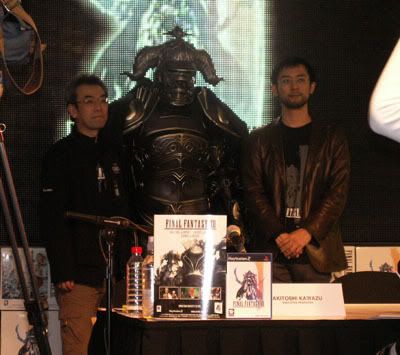 So then the main events commenced, and the representatives of square came on, and were interviewed by the camera crew present at the event.
The winners of the cosplay contest -launched on the Square website- were brought up and congratulated; I believe that through winning the contest they received a goody bag, not to mention a free stay in a hotel in London!!
Anyway here are the guys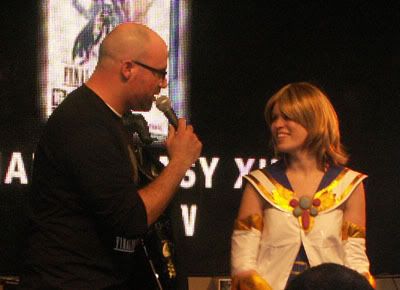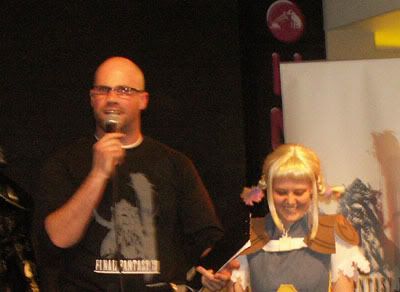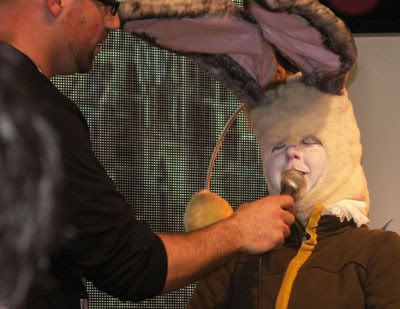 After they were congratulated and questions were asked the camera crew came up the barrier I was near and interviewed the amazing Kuja lady! They then asked if they could interview me! Now I must say I was possibly not the best person to interview; as I am not a fan of the Final Fantasy games… well that's a lie, I'm a fan, but I just don't play them, I prefer to watch Catherine play them.
Then what everyone had been waiting for –well not really- the Q&A session; where the guys were asked about the prospect of a Final Fantasy VII remake, to which they replied 'they are working hard on Final Fantasy XIII, and is currently their most important ongoing project, but once they have finished it, they MAY consider making a remake. Please note the MAY, this is not solid information, just what they said.
Then the large queue of people… with wristbands, were allowed to flow in and get their items signed, while I stood watching this happen., though I cannot say the whole launch was a loss for me, because I really did have fun, and it was undoubtedly the best experience I could have imagined being costumed, I do not remember exactly how many people took my picture, or how many photos were took of me and the nearby cloud (for some reason)
The MC then walked around the stage area, asking cosplayers who they were, where they were from etc, and handing them free t-shirts which both myself and Rinoa received. Not to mention that one girl in cosplay was from Southend, then another was from Colchester. Unfortunately Chelmsfordians mustn't be very big cosplayers.
Then I watched as my group were allowed to get their things signed, so I walked off to meet them, but got very confused, lost and disorientated, while a nice guy took a photo of me on his phone.
Finally finding them, they put their things away and we left –not really sure if anything else was going to happen, but we were all too tired and hungry so we quickly left to McDonalds after getting a quick photo of us all.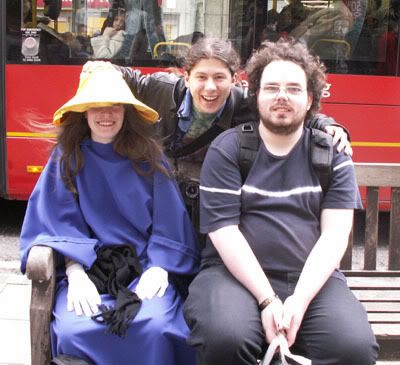 Afterwards we just mosied around Oxford Street, and gave Virgin a visit; just because its amazing there, with sooo many pods, here are some pics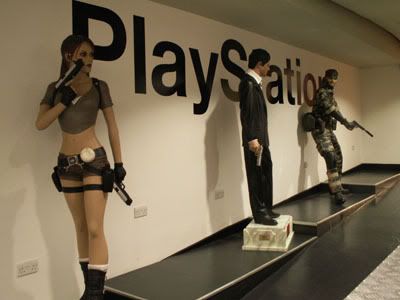 Somehow we found ourselves near Tottenham court road; we had walked THAT far! So we popped into the small Korean centre point shop, where Tim picked up some Pocky and I bought a couple of drinks; I was hoping they would sell some ingredients I could cook with; but I didn't want to keep us in there too long, and I couldn't see anything really, so we left to find Forbidden Planet. Now I swear I remembered where it was! By accident, we found it, and I swear it was even bigger than I remembered it, and it makes me want to have a day out in London again.
Managing to catch our bus back without a hitch I must say I had an awesome day! My costume was well received, and all went well!!
My only regrets of course were forgetting to bring Moo, who could of easily been turned into a Mooogle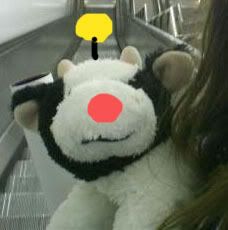 And ooh look! My back is on cvg!
And theres a nice photo of me next to Cloud (whaddid I tell you!) on average gamer
2 comments
OMG I love moogle moo!
WEIRDO: You're kidding me dood, that's your whole comment :P
Great pics there and your costume was brilliant! Was so glad that people cosplayed to the event! I was Montblanc the moogle but the girl dressed as Cait Sith was Chelmsfordian :D she was my guest to the hotel! I'm not far tho cause I'm from Norfolk so its only an hours train ride for me! What a fantastic day eh? WOW! *hugs*
WEIRDO: Aww wow that's awesome, also I heard all the goodies you guys got! No fair!!
But whoa Cait Sith was a chelmsfordian! Cooly ^_^
And yes indeed, if I find anyone that did not have a fantastic day out to the launch, then I wont believe them :D