Ffresh Film Festival 2007 Day: the last
After the surprising hijacking of my blog last night -I didn't realise he could get free!- we are now onto day two of the Ffresh film festival.
The day began having breakfast in the dining room; shared with a family of three, and two guys who I believe were behind 'Tom'
So after eating some very nice cooked food, I set out to the grounds to take a few pictures of the Dolas house; the pillars are lovely in particular.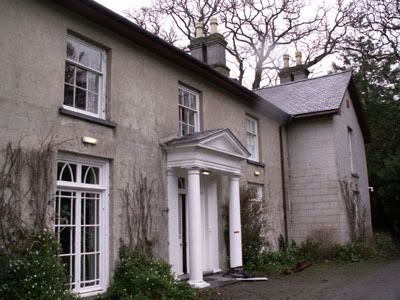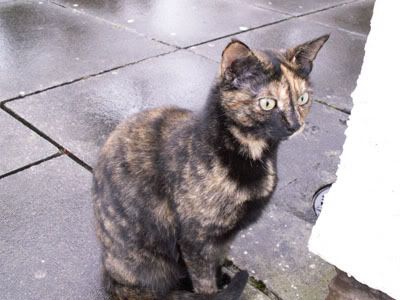 So I got a few photos, and some of the grounds, and of the nature reserve across the road.
I arrived early into Aberystwyth and picked up the copy of Snow Crash that I had my eye on when I had gone in yesterday. I also wanted to get The Hero with 1000 faces, but they didn't have it in the Oxfam, and the silly bookshop a few shops down hadn't opened yet! Though they did have –what looked to be- an old copy of Sense and Sensibility with illustrations by some guy called Hugh Thompson, £119!
I arrived at the arts centre at about a quarter to 1, and hardly anyone was there! Though I was not early enough to see the art director's session. But I did go to see the SIHE showcase, which was pretty much the director of SAND (which this year will be running 26th-30th November) informing everyone of the event, as well as a little talk about their courses and a fairly awesome show reel. I went and had a talk with the two representatives about their game course which was nice as they tried to 'sell' me and Catherine a place on their course, with open days happening very soon.
I then saw a couple of people from my course; which brings the grand total to Four –yes, count them- four people, not including other years of course, or lecturers.
I then went to see the interactive media screening which was… interesting to say the least, some very strange and peculiar creations in macromedia director, especially that of a mature lady; congratulations to her I say.
Then there was also a guy that made a sort of interface for the music he had created; it was cute because –as he mentioned- the inspiration for the look and style for the piece was the font of Battlestar Gallactica and the colours of Buck Rogers.
This ended early and lunch was lined up next, sitting on a sofa that literally tried to eat me I waited in anticipation as the food was put on the large tables, awaiting the cling film to be peeled from the plates! (After the nice addition the party-esque food made at dinner last night, I was desperate to hoard more.) Sensing that the food was not to be uncovered any time soon I began to read my newly acquired book.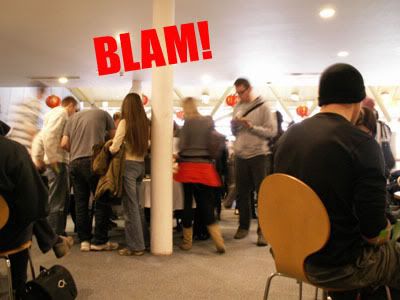 Then suddenly, all hell breaks loose when there is a mad scramble for food; as though it was going to run out in five minutes and all unfortunately slow will be left to starve!
So waiting for the crowds to die down I dive in with my plate; two sandwiches a samosa (which I will no doubt regret picking up), two bread crumbed pieces of chicken and two other vegetarian delights later and I am sitting back where I started, stuffing some of the coveted food into my small freezer bag; and don't look at me with those eyes! I'm a student, it's what I'm supposed to do.
I begin to read my book again, and watch as that blue haired guy ambles around and as the severe hubbub of the food tables wear off.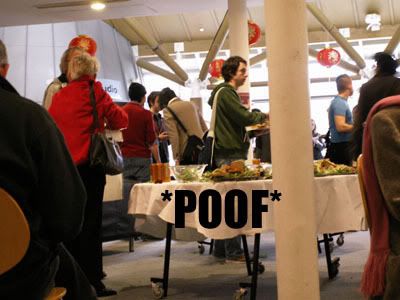 After skipping the Digital Media Consortium, because as it turned out; the thing was a workshop, I had a look in the bookshop, which was absolutely immense!! They had so many graphic novels it was crazy!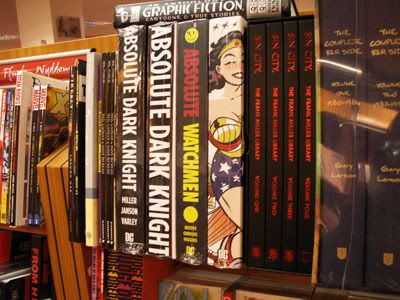 and unlike most shops, this was not mainly comprised with manga.
I must say the waiting I endured yesterday pales in comparison to today, it does not help that Catherine's been invited to see Tim's place, that I decided not to bring the book I have been reading because it is slightly heavy, nor that I have Sam & Max waiting for me at my hostel!
Though I must say I find it to be a shame that I cannot stay in Aberystwyth for the weekend; as they are holding celebrations for the Chinese New Year, but I do want to get back to Newport, there are no games here!
Then I had the luck to sit in possibly the coldest position in the whole building; I would have been just as well off, sitting near an automatic door.
*enter rant*
I must note that, yesterday; whence I was completely wired off my head –similar to the experience I would feel at a convention- but today I feel completely lethargic, it may be because I had a cooked breakfast this morning, it may be because I retired at midnight for finishing my last entry, or it could simply be that I've found myself completely lost with nothing to do for possibly the entirety of 2-3 hours… perhaps more.
I was tempted to fall asleep, but know that I could not: 1. because my things may be stolen from my under my nose! 2. Because I'd probably end up missing the two talks that I pretty much came to the festival for.
At this point I had written literally an essay explaining how I personally love to write with a pen on paper; I have chosen to exclude this as it has no real bearing on the event, just proved something to take my time with.
*leave rant*
The Blitz talk; by Ben Fisher on the making of their Reservoir Dogs game was interesting, I found that they had made a timeline for the whole game, which they apparently found a very helpful experience (though if memory serves me, Rockstar had done the same technique for Grand Theft Auto) the talk was pretty fascinating –though didn't make me want to purchase the game anymore than I originally did, because it's simply Hitman and GTA with a license- the main highpoint of the talk was the blooper reel from the game, which was hilarious; mainly compromising of clipping and graphical/design errors, but was great fun!
Another interesting fact I came out of the talk with was Tarantino's apparent abhorrence of video games, and rumour has it that the only game he has ever shown slight interest in, was Half Life 2!
I then originally intended to sit down for another hour to wait for the Torchwood talk; but really not up to that I went to the Phil Mulloy master class; though I had unfortunately never heard of him it made no difference as the session was rather entertaining, but dragging on slightly -as the vibe in the theatre would have it- and it came to the point that you could see that everyone was itching to leave so that they could attend the Torchwood talk; this even led to premature clapping! The session itself would have possibly ended earlier, but one person was have a sort of argument with Phil. I thought Phil made a very valid point of his slight dislike of CGI, that most CGI appears so polished it comes off feeling pretty dead and lifeless.
When the master class was over, two guys in front of me were literally jogging to the great hall to witness the Torchwood talk; even though once I had arrived at just gone 17:30, it did not start for a good 10 minutes. Producer Richard Stokes, and writer Cath Treganna (director James Strong being absent) spoke for about 45 minutes about making Torchwood, Richard jokingly called Russell T. Davies a bastard for picking up Doctor Who when he had had the same idea, and also wishing he could remember an anecdote for the possible stories he had been given to Torchwood –because some people believe because the show was science fiction they could write some weird stuff-
One thing that angered me about the talk was the MC, who I am rather unsure on who she was, but she didn't seem to know much about the state of television, (whereas Richard clearly did) claming that Torchwood was the first Science Fiction show to have a basis on humanity and use aliens and monsters purely for metaphor –in most cases- um hello!!! Buffy ended just over 3 years ago, and it's as though it didn't exist. The 1950s episode of Torchwood could be seen to have ripped –conceptually- the essence of 'The Body'; that there is no monster to fight, nothing that can be done to change anything… does that make sense?
One thing I love about all good television is character development, and although Torchwood did seem to have some of that, I am now a little weary to find that they were filming episode 7 before they had even written episodes 3,4,5 and 6, so how did they actually have developed characters at some points?
Now for some little facts learnt about Torchwood through the Q&A;
Each episode was filmed in about 13/14 days, with a budget on par with Life on Mars, more than Holby City but less than Spooks.
The monster in the last episode was something someone in the Mill had thrown together in their spare time, and therefore didn't cost as much.
His name was Bob, apparently.
Season 2 should be aired early 2008.
In season 1 of Torchwood, many problems arose from using HD cameras.
They produce 13 episodes, because 13 is an easier number to sell, while being a longer run for a British TV series, because most viewers are disappointed with the short runs shows have.
Filming of season 2 commences April 30th.
One obvious inhabitant of Aberystwyth asked a rather humorous question, involving one episode which claimed that Gwen had visited Aber, but she was actually in Cardiff, and what is their problem with hometown, apparently this was because travel and costs mean Cardiff is more cost effective.
They say that for season 2, we can expect relatively the same thing, because apparently nothing too drastic should change, mainly because the show does not work from a formula; unlike most popular BBC shows, enabling them to go wherever and do whatever they want, –to a certain degree- as Richard put it, he wants Torchwood to be remembered as great TV; rather than a machine like Holby City or Eastenders, which isn't really a programme, but more of a newspaper where the details of every episode are quickly forgotten.
The talk itself ran over its allotted time by 15 minutes –but I would have been just as pleased if it had ran longer- although Torchwood isn't per say as enjoyable and engaging as I have found shows like Afterlife and Doctor Who, it is much better than most shows, being scifi with humanity and fairly good characters.
And that was the end, I phoned for my taxi, got back to my room, sat and watched TV; too tired to write up this entry. I also watched my first episode of Lillies, which did seem fairly entertaining; I know mum wasn't too taken by the show.
The next morning, me and Bob bid farewell to Y Gelli (which had a lovely grandfather clock in the hall!) and got back in lovely Newport at about half three.