Heaven on Mars
I do not exactly recollect why I began watching Life on Mars; after not catching any of the episodes from the first series; against my law teacher's advice.
It was undoubtedly during my television faze, and somehow I actually managed to catch every single episode of the second series... not that 8 episodes is a lot mind you.
But this simple detail actually means that Life on Mars held my attention so much, that I wished to catch each episode, similar to the effect that Afterlife had on me, both shows having unfortunately come to an end.
The show is just so fun, perhaps even more fun than Doctor Who, which I find amazing seeing as if the show were simply billed as a 70s cop show, I'd stay well away from it!
So therefore it must be down to both the Max Payne-esque situation that Sam Tyler finds himself in (I must be associating the two together from most likely the dream sequences of Max Payne), and undoubtedly the Political Incorrectness of Gene Hunt, which just gives the show a nice breath of fresh air; that and a good laugh.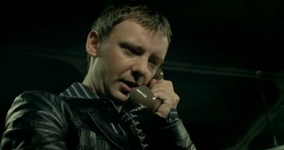 But without a doubt, I tell all you lovely people, that Life on Mars is possibly the best television show that I have seen in a while.
This is possibly based on the fact that I could laugh out loud at pretty every episode, and you're always left wondering whether Sam will make it back or not, as well as delivering an amazing story ever week; though I must admit, after going back and watching the first series, the second series did seem a tad weaker.

But I find it fairly strange; being set in the 1970's (not exactly a time period I enjoy in most aspects) which is why the unveiled sister show set in the 80s; Ashes to Ashes sounds so interesting, as this is a period in time I can get into, and it'll be nice to see how the 80's worked in terms of policing.
So, Matthew Graham, Tony Jordan and Ashley Pharoah I salute you for bringing a great gem of a show to our screens (even if it did take about 8 years for it to be shown from the point the idea was conceived) Not only did it mix cop drama with science fiction, but it also created an amazing bunch of characters.
Hands down my favourite television drama for this and possibly last year (if I had watched it, it definitely would have been)
No feedback yet
Leave a comment